Few days before a failed marriage proposal at the Major League Baseball game got viral on the internet.
As per,Daily Mail, "Crowds gathered at the Rogers Centre on Sunday to watch the Toronto Blue Jays take on the Boston Red Sox, and while fans expected a great game, what they didn't expect was to see a marriage proposal go south."
The viral video showed the man named Alexander Korda came to her girlfriend while she was proceeding to her seat the New York, based fan stopped her girlfriend and got down on one knee to propose her for marriage everyone was looking happy until things took a turn and his girlfriend who was all excited few minutes before slapped her boyfriend on his face and also spilled threw her drink at him.
Not only crowd but also the official MLB camera were also recording the happy couple after noticing them for showing it on the screen.
"And what many thought was going to be a sweet moment was destroyed when Alexander pulled out a small, black box from his left jean pocket – only to reveal a Ring Pop inside." 
After seeing the lollipop ring in her boyfriend's hand she became shock and yelled at him in front of everyone", What the f**k is wrong with you?"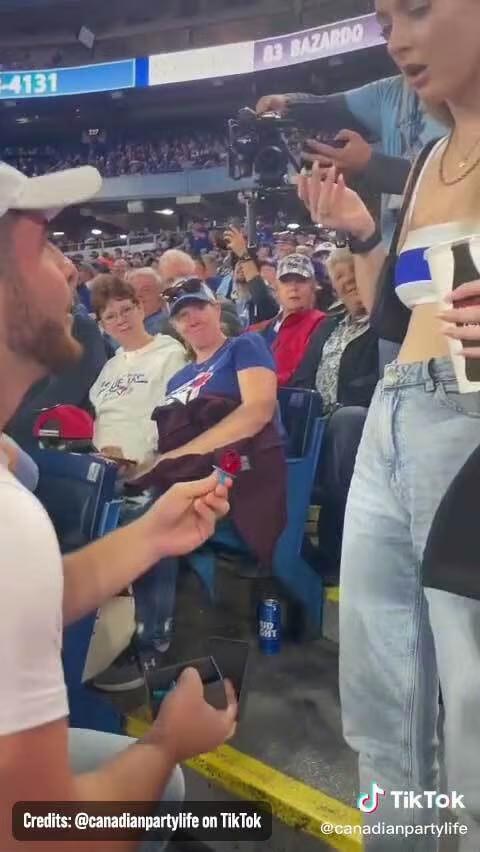 While everyone watching them shockingly she slapped Korda right on his face and spilled her drink at him too.
After the video went viral on the social media it received both positive and negative comments from people. Many people slammed her badly and said she is just a rude and aggressive girl who don't deserve him while others named the incident 'staged'.
"So many things are staged for views and likes/advertisements these days, so I have no idea if this is legit anymore," someone commented.
"Sure seems staged, doesn't it?" another one said.
"Anything for content," someone wrote.
"OK, definitely staged. They do this stuff at games all the time," another said.
Many people on the internet supported Alexander and advised him to find someone who can take the joke not someone who couldn't control herself.
"She isn't worth it man. Lol so aggressive . You got her though, lol priceless." Someone commented under the video.
"He had the main ring in his pocket if she can't get a joke she better not be with you," someone wrote.
"Looks like the right ring box was in the other pocket!!" another one commented.
"That's so sweet, maybe he was going to let her pick the ring. So embarrassed for him," a fourth supporter wrote.
While many people showed support towards Alexander some people bashed him for making a joke of such a serious matter in front of thousands of people.
"Any chance she thought it was a cruel joke to go viral and was embarrassed?"
"What an absolute jerk, who would do such a thing when everyone is watching you? Should have done the right way, dude."
"Humiliate the one you love in front of thousands?? [Should of] been a real diamond. Run girl! I woulda done the same. it's called self-worth."
"Sis did the right thing. Respect yourself, Queen."
"She knows her self worth!! If he truly loved her he would care about her feelings and not joke or make fun of something serious."
Share Your Thoughts:
What are your views on this story? Let us know in the comments.
Sources: Daily Mail – TikTok