No better way to picture the latest trends for Updo Hairstyles 2015 then to watch the fashion shows of famous designers. When a dress designer put together all the efforts to exhibit the latest clothing line which will enthrall the audience, there are other things that are taken into special consideration to create a magnetic effect around. Therefore, services of best hair professionals are acquired to make each piece exquisite and according to the expectations of spectators. Do check Hairstyles 2015 with Bangs.
To roll in the best Updo 2015, many famous designers with their latest fashion trends for 2015 are taken into account to make the list. To rapt a wedding event, red-carpet occasion, or prom party, girls pay hefty amounts for hair salon services for a spellbound appearance. Consultation is wise thinking. What if, you will get free of cost suggestions regarding current trends for making an updo choice? Here comes our service to give you details about hot and happening in hair industry.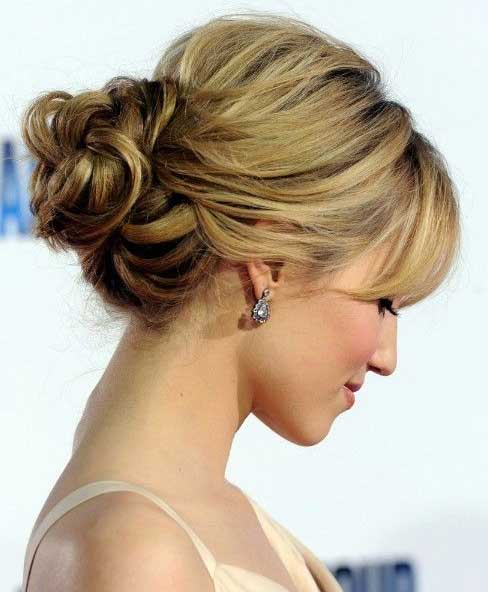 Let's start with Carolina Herrera show. He has showcased his bridal line with updos that are done by lead hairstylists Nina Dimachki and Akemi Tamaribuchi. By using Kerastase products, the two hair-pros have given the best looks to complement the wedding gowns wore by beautiful models. Without doing much, hair twirled into low chignon at the nape of the neck and then a floral headpiece made a statement look. French twist also made an appearance wore by many models with voluminous wrap.
Second in eccentric list for Updo 2015 is Naeem Khan bridal collection. As his sleek wedding gowns stole a huge applaud from the fashion critique, his models were wearing a sleek updo to maintain the aura of his dress line. Simple but when carried with confidence this coiled hair updo can be a striking piece one would never want to look away. With side-parted hair, twist a section of hair around the updo's base forming it into a coil shape. This updo can be splendidly merged with deep-neck line and lustrous gowns.
Gorgeous can be the only word to describe Monique Lhuillier's wedding collection. When Monique's name come into mind for considering a wedding gown, one can only think about the intricacies of the work. Rather this time to highlight the delicacy of every gown, the hair kept all simple. Lead hairstylist Nina Dimachki has done complete justice by bringing the accent down with just sticking to the basics by creating an oversized bun that sat above the nape of the neck.
In Galia Lahav's dazzling collection, models made an appearance in braided updos. So, definitely, fishtail-braided updo or hairline plait is not going to leave the current trend list. This time chain accessories and elegant floral headpieces have gained quite popularity in various bridal fashion shows. Grab more on Best Hairstyles 2015.
The pictorials you will see here will guide you to grasp the technique to try out famous updos.