The popular saying, never work with children or animals.'
Instantly clicked on mind after the happening of this incident where an Australian couple who were all set to get engaged with each other and suddenly a toddler dropped their engagement ring into the sea.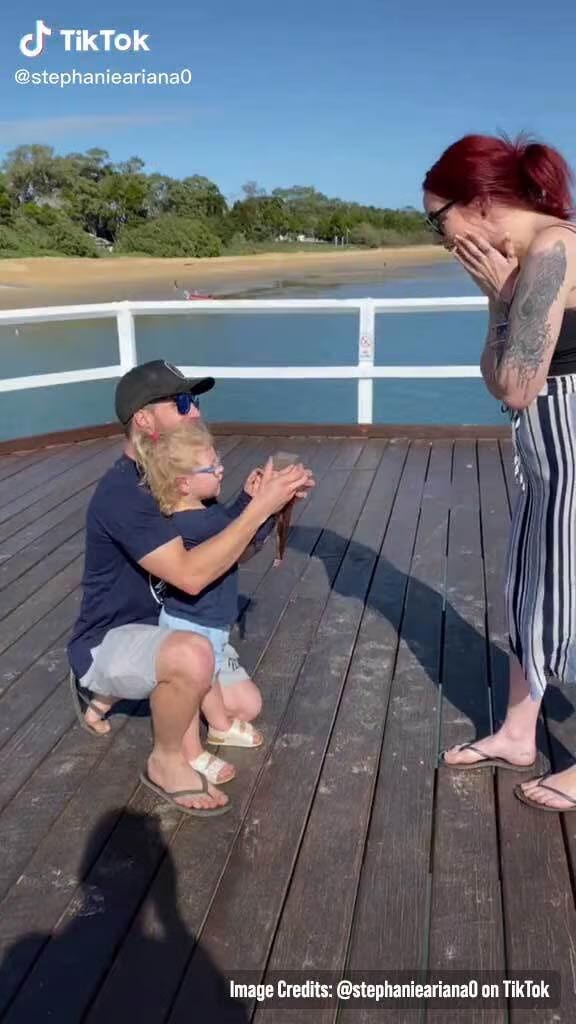 In her famous TikTok video it can be seen that the couple was enjoying the precious moment of their lives and the Stephanie was about to get proposed by her loving boyfriend named Luke, but suddenly things went wrong and her two year old child dropped her engagement ring into the ocean.
As Newsweek reports showed, Stephanie's daughter Harpie, was standing in front of Luke when he got down on one knee because they both wanted to include Harpie in the proposal. But things took turn unexpectedly when her daughter came to grab the ring but accidently dropped it on the deck which have small gaps in it.
Stepanie, posted a video of this incident on her TikTok account named @stephanieariana0 and wrote,
"Had to tell Harpie that it was kissed by the fish and mermaids for good luck."
When her 2-year-old daughter dropped the ring in to the sea all the people who were present at the spot started finding the ring.
This viral TikTok video crossed almost 13 million views and received 1.7 million likes and 19k comments.
"That's why I avoid adding kids in situations like this," someone wrote under Stephanie's video.
"Note to self: don't propose on a floor with crevices that will swallow your ring," user commented.

"Let's just agree that you CAN'T do this with little kids, especially on a place like this," someone said.
"Omg so lucky he found it…what a story to tell at the wedding though," another user commented.
"According to the couple, the water in Hervey Bay in Queensland is clear, meaning the ring could still be seen. Luke was able to track down and grab the jewelry, which now sits on Stephanie's finger." Wrote Newsweek.
"We just moved on and laughed about it. It wasn't Harper's fault at all. She's a helpful little girl, and everybody's like, 'Why would you do it with a kid around?' Luke wanted to essentially ask Harper as well," the duo explained in a follow-up video.
"If you ask about my advice for proposing near a body of water with a ring?" Said Luke. "Tie a string and get some fishing line."
Share Your Thoughts:
What's your take on this story? Let us know in the comments.