Carrie Bradshaw from "sex and the city" aka Sara Jessica Parker always makes to the news for her different t looks and bizarre attires on off screen though she pulled off so good as a fashion icon, on screen.
In the series (sex and the city) Parker appeared with diva looks and made historical iconic appearances for American television.
The stylish icon is known to be a trendsetter as women loved following her chic looks and hairstyles (on screen)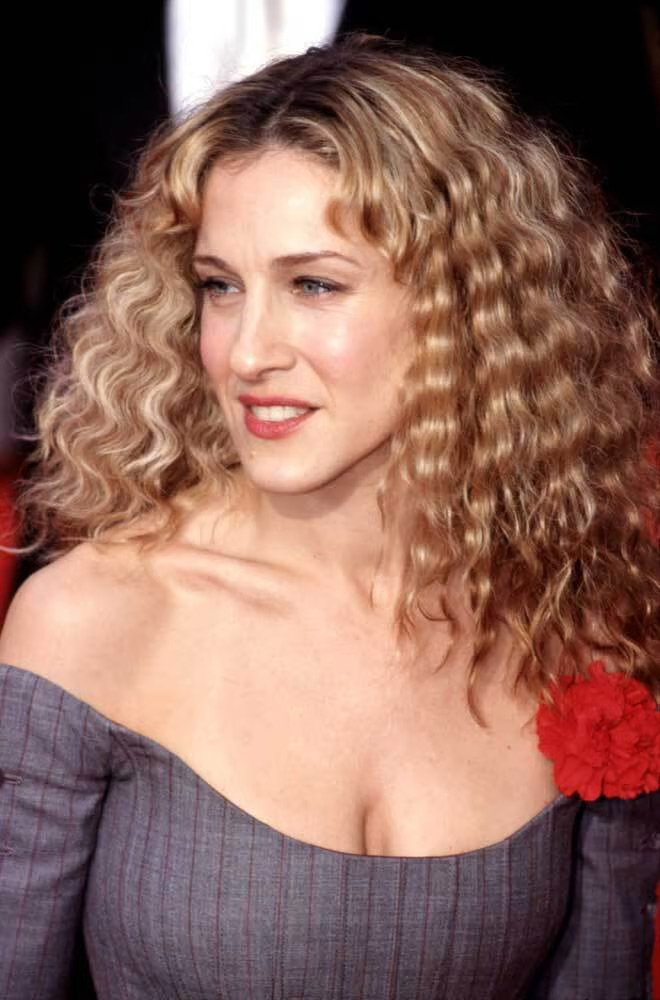 But Sara is not like Carrie Bradshaw "much careful about her looks" in the real life
Speaking about her character back in 2012, Sara told a mag in an interview that she doesn't relate herself with on screen characters in real life. Sara said,
"It's not how I think of myself, and I think it's probably the healthier approach. It's just not a reality — not when you have three kids, and you go to the market, and there are hungry people at home. You have a limited time to do it. There's just no time to let vanity enter into that."
Not only had this, but actress always talked about her real lifestyle and the ways she opt for to keep herself happy and healthy.
While talking to the Vogue, the 56-year-old said,
The 56 year old bold actress revealed,
"To be honest, I've never given much thought to [my attitude toward beauty]; it's never been that I'm without vanity – that would be complete nonsense – but I think that as time passes, you buy the things you enjoy, you learn how to put your cosmetics on in the way that feels most natural to you."
However, whatever she thinks, the fans and haters do not help comparing the real-life Sara with on screen Carry Bradshaw, whenever actress get spotted in her natural looks.
Actress was also once bashed for her looks at the Met Gala and at many other events due to spotting careless about her looks, still Sara take things as funny and doesn't much attention to Hate comments.
Sara believes,
"So, what's the point of criticism? I can't understand it. You wear something at an event because you like it, and then there will always be someone who won't like you, your dress, or maybe your hairstyle. I don't understand people." she once said.
However, she has been subjected to harsh criticizing comments and despite "I don't care" attitude towards bullies, dealing with hate becomes difficult for her sometimes.
In 2008, the actress got hurt over a poll, conducted by Maxim Poll, voting Parker as the "Unsexiest woman alive."
Talking on this she said,
"Do I have big fake boobs, Botox, and big lips? No. Do I fit some ideals and standards of some men writing in a men's magazine? Maybe not.
"Am I really the unsexiest woman in the world? Wow! It's kind of shocking when men… "It's so brutal in a way, so filled with rage and anger."
The stupid poll also affected her family including her husband Mathew Broderick who was too annoyed by this pointless hate.
"It upset him (Broderick) because it also has to do with his judgment. It's the condemnation; it's insane. What can I do?
"I guess you can't please all people."
But the hate went on, Parker again got bullied and received hate comments after being spotted by Paparazzi on a lunch with Andy Cohen where she appeared with grey hair and no makeup.
Parker received means comments for her looks that instantly became talk of the Town.
Actress didn't allow hatred to slide in but clapped back when she was called as old senior citizen.
In an interview she said that nobody can make people to like them for their realities.
"It almost feels as if people don't want us to be perfectly OK with where we are as if they almost enjoy us being pained by who we are today, whether we choose to age naturally and not look perfect, or whether you do something if that makes you feel better."
"I know what I look like. I have no choice. What am I going to do about it? Stop aging? Disappear?"
Andy also intervened defending her partner and called it mean, selfish and misogynistic to criticize Sara for her natural looks.
Source: