Every little girl or boy has wished to be or to see their favorite hero or animated character, unfortunately some wishes don't come true. But for some people, fate had other plan. Whether they like it or not, it gave them an appearance strikingly similar to an animated movie character. Don't believe us, have a look these pictures show our favorite animated characters live among us.
1. The grandpa from Up
Remember Up and that sweet, cute and humble grandpa from up that made us cry so hard. What if you spot your favorite grandpa next door, I'm sure you will run as fast as you can and will give him a tight hug.
2. Grandmother from Tweety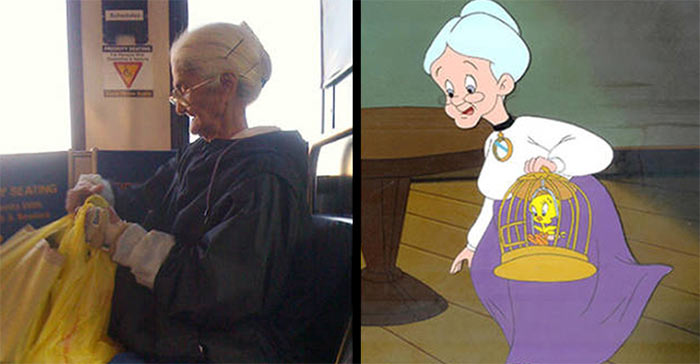 Who will not remember this granny? And look at her carbon copy. Same face shape, same wrinkles and that same warmth you saw in Tweety.
3. Boss Baby
Can't believe your eyes? But it's true this cuteness and over smartness is all real. The baby from hell was quick to make a place in our hearts through his clever mind and now every infant in a house is a BOSS BABY.
4. Elsa from Frozen
The lady of ice froze everyone in 2013 and still people can't get over Elsa. Half of the population is getting dressed as their favorite Frozen lady.
5. Belle from the Beauty and The Beast
Belle teaches us that heroines don't just look pretty, they are smart as well. She is beauty with brains and her copy is as amazing and magical as her.
6. Tarzan
Weird Al and Tarzan! Yes Man, It's true. Believe me.
7. Prince Eric from The Little Mermaid
"I've never seen a human this close before. He's very handsome, isn't he?" – Ariel, as she looks at Eric. After seeing his doppelganger, my mind repeats this dialogue again and again. Ugh!
8. Aladdin
Magic carpet, Genie, Jasmine and Aladdin. Just love every bit of it. Look, here is the exact copy our beloved thief and the future King.
9. Mario
We all grew up playing his game 24/7 and now we have twins. This is amazing.
10. Repunzal from Tangled
Who does not know Repunzal's story?, princess with long beautiful, magical hair living away from her parents with an evil witch then comes a prince to save her. The real life Repunzal have some strange resemblance to the Disney's Repunzal.
11. Papa Smurf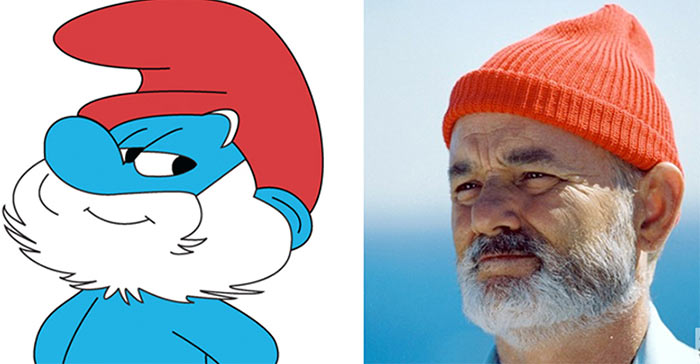 O Papa Smurf! The cutest, smartest and one of the older Smurfs alive. I can sit all day and watch this movie all over again. Can't guess which one is the real? Don't worry, it happens.
12. Scar from Lion King
Khal Drogo and Scar?? No way!! As much as we hate scar from Lion King, We equally love Khal Drogo from Game of Thrones. But in this love hate battle we can't ignore the resemblance.
13. Johnny Bravo