Love is a beautiful feeling. It is something that can change someone into a completely different person. It makes you feel like you are attracted to someone and that other person will love you unconditionally. But sometimes we end up wasting our time on wrong people, who don't deserve us or maybe they are not meant for us. So, here are some questions that will tell you whether your partner is the right one or not.
10.Ask if they love you
The answer to this question is simple I love you but if they say that they like spending time with you then this means that for them this relationship is temporary, and they don't see any future with you.
9. Just because you're fun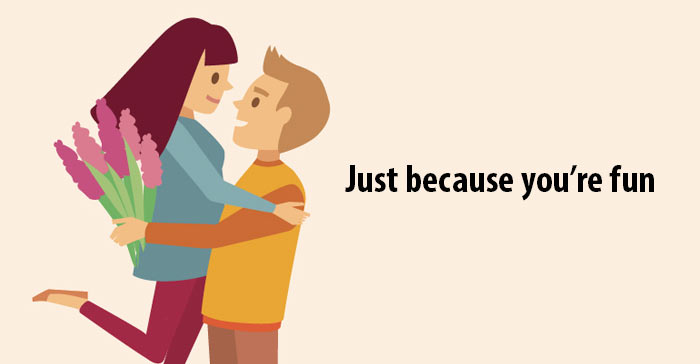 At times people love you just because you are too popular among friends or you are fun to be around. Being with you will make them also popular so, this clearly means that they are with for time being and when they'll find someone better they'll leave.
8. Should love you in any circumstance
People who truly love us are there for us for both in our great and awful situations and will never walk out on us. Partners who are not serious will never be there and tend to walk out on us when the great days end.
7. Future together?
This is a very important question. The person who is take this relationship seriously will be planning future with you. That person wants to meet your family and stuff but someone who is just playing around will always avoid talking about future.
6. You are their priority
Regardless of what happens the person who profoundly loves you will dependably make you their top priority as opposed to simply being there with you when it is advantageous for them. So, be a little observant because if you're not their priority then something is wrong.
5. The person is kind
If a person is kind towards others, then this may imply that they are the right sort of individual to be with and you should be grateful to have discovered such a person.
4. Can you both adjust
If your partner will compromise on issues which are vital to you then yes, you are unquestionably with the correct person. But relationship is successful when compromises and adjustments are from both sides.
3. Your partner listen to you
If your partner listens your perspectives and suggestions that it implies that they are the correct person for your future. But, If they don't care about your perspective or simply attempt to force their perspectives on you then you ought to be cautioned.
2. Do they respect you
The person who is truly in love with you will respect you no matter what. They will respect for who you are, your choices, your dreams, they will respect you for everything. But the person who doesn't love you will always try to let you down. And will make you feel use less.
1. Good communication between you two
Communication is also very important in a relationship. If you both have excellent communication and you both can talk both anything, then this indicates how much you both trust each other. But, if there is hesitation between both of you and you are scared of other's reaction then you must stop and think for a while.
Preview Image Via: Shutterstock