Being in love means accepting each other's flaws as well as you accept their qualities. However a lot of times love makes you want to work on all your imperfections. You have such affection for each other that you get motivated to work on your betterment for your partner. Love and sayings portrays examples of some enthusiastic couples who have worked on themselves together for each other.
1. Three years ago this couple decided to have a makeover of their bodies, and they did!
2. This adorable couple wanted to start a family soon after they got married. But their obesity came in the way. Hence they decided that they had to transform their bodies. They have reached their goal and it is remarkable!
3. These beautiful people started working on their new year's pledge and within a year they have managed to become super fit!
4. The love and support this couple had for each other throughout their weight loss journey is the reason they have managed to work out consistently. In just a couple years they have changed their routine.
5. In just one year, this gorgeous woman and her handsome partner shed a lot of pounds together and are now sticking to their plan of staying in good shape.
6. This couple planned to become lean and healthy ahead of their wedding and for sure they looked stunning on their big day!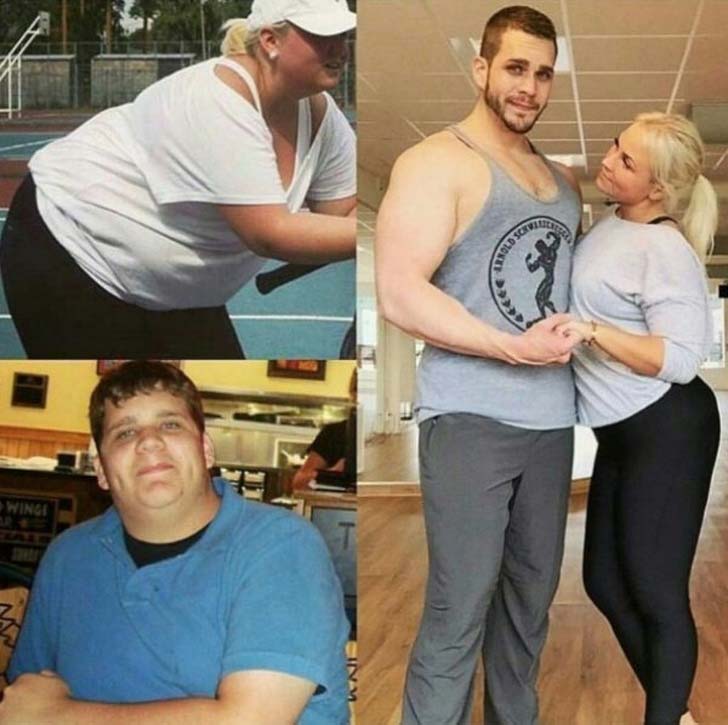 7. When many people don't mind being a little over weight at this age, this lovely middle aged couple worked on themselves together and within a year they reached their goals!
8. This beautiful girl Haley Smith decided to let go of her sweet tooth and started working on her body when she got engaged. It is hard to believe that it's really her!
9. Where most pairs start gaining pounds after marriage, these love birds shed 150 pounds together!
10. These two people were junk food lovers and used to have an unhealthy lifestyle. They changed for the better and lost a significant amount of weight together!
11. It is hard to let go of your bad eating habits but once you do, the results are outstanding! Same is the case with this couple who gave up a lot of weight by starting a regular work out and gaming session.
12. Out of love for her boyfriend, this lady worked on her body and shed some pounds to make him content. She is in ideal shape now.
13. It is not very hard to get back into shape when you are a parent and these guys proved it by losing weight even after having two kids!
14. The only drawback of losing weight for this couple was all the spare skin they had left after becoming lean. Now they need money to get rid of that skin.
15. Love brought these two together and it is love which made them work on themselves for each other. Now they have their perfect partners and their perfect bodies.
16. It is truly inspiring that one doesn't only shed weight but also becomes a sportsperson despite being parents!
17. In a matter of three years, this lovely pair lost almost a hundred kilograms.
18. Steadiness and regularity is the key to achieving all goals just like this couple did!
Preview photo credit
eveliennellen / instagram