It has always been said that age is just a number and love has no boundary when it comes to color, race or age. Hollywood celebrities have proved this many times by pairing up with people who are much younger than them. Although they look so good together because of their youthful appearance that it becomes hard to believe that there is a big age difference.
1. Mick Jagger(78) and Melanie Hamrick (34)
Mick Jagger and Melanie became closer when Mick's wife died. Melanie was a ballerina since 2014 and she became close to the star although they had 44 years age gap still they have a beautiful relationship with a five year old son.
2. David Foster (72) and Katherine McPhee (37)
The couple stayed friends for many years and then started dating eventually getting married in 2019. It was the fifth marriage of David and second of Katherine. The reason behind them not dating for a long time was because Katherine was afraid of what people would think about their relationship when they find out.
3. Dennis Quaid (67) and Laura Savoie (28)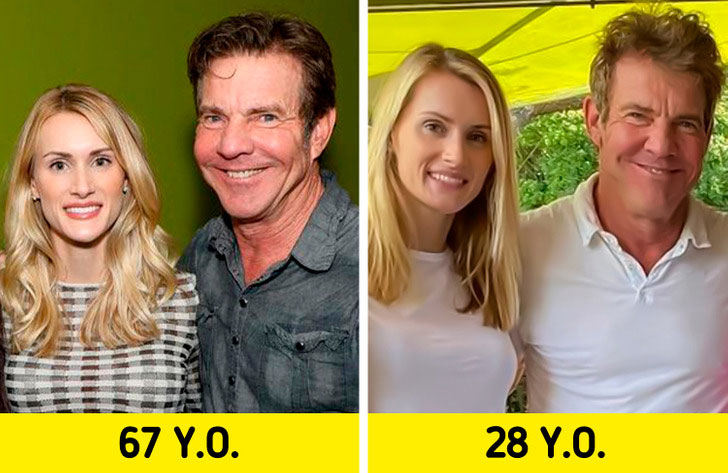 Despite an age gap of 39 years, the couple still share a great bond together. It was the fourth marriage of Dennis and he believes that it would be his final marriage saying, "I feel like I have a real partner in life". Both of them have been in close since their meeting at a business event.
4. Jeff Goldblum (69) and Emilie Livingston (38)
Jeff Goldblum and Emilie Livingstone have a beautiful relationship that could be seen through their social media. They have two sons and together they spend their life as a happy family. The actor and ex Olympic gymnast got married in 2014.
5. Alec Baldwin (63) and Hilaria Baldwin (37)
The couple has two daughters and four sons and despite an age gap of 26 years, they share a loving relationship. They met in 2011 and got married the next year.
6. Richard Gere (72) and Alejandra Silva (38)
Richard Gere and Alejandra Silva have a comfortable and fun relationship with each other. They have known each other for a long time and finally started dating in 2014. They have an age ga of 34 years.
7. Steven Tyler (73) and Aimee Preston (34)
Aimee and Tyler have been in a professional link before they started dating in 2016. Aimee was his personal assistant.
8. Bruce Willis (66) and Emma Heming Willis (43)
The lovely couple has been together since 2009 and have two beautiful daughters. It was Bruce's second marriage and he has three daughters from his first wife who is actress Demi Moore. They first met at gym and have been getting closer ever since.
9. Dane Cook (49) and Kelsi Taylor (22)
The couple has a 27 year age gap and has been friends for a long time before they started dating. They met during a game night at his place.
10. Mel Gibson (65) and Rosalind Ross (31)
Although Rosalind is 34 years younger than her partner, both of them started their relationship in 2014. She said that this age gap does not matter to her as long as they both love each other.
11. Leonardo DiCaprio (47) and Camila Morrone (24)
The actress and model have been known to have a hidden relationship for a long time. A source has revealed that "they are very serious and he is very cozy with her"
12. Madonna (63) and Ahlamalik Williams (27)
Ahlamalik has been a backup dancer for Madonna's concert tour since 2015. They finally revealed their dating news in 2018. They are still seen from time to time on Madonna's Instagram page.
Photo credit: Getty Images, East News