With the beginning of a new year, people try to change your looks and overall personality so that in this year they look different. Especially men are curious to follow the latest style of haircuts and are usually inspired by the movie actors. Men's hairstyles in 2015 have taken a new dimension with new hair styles are introduced making several choices available for men. These new hairstyles have made men to think and change their attire so that all the bad things along with the old look stays in past. Men have always been very particular about the hairstyle they on their head because for men, hair style leave great impact on the people. But with so many men hairstyles being introduced in the fashion market, it becomes really difficult for a man to choose among these hairstyles. To make the selection little easier for you, let me just categorize some of the finest hairstyles of men among which you can choose the one which suits you the most depending on the shape of your face and overall personality.
Wavy Hair
Most of the men ask for having more movement in the hair and hence advised to have the wavy hair look. Wavy men hairstyles are though majorly dependent upon the extent to which the person has straight hair. These wavy look can be simply opted by just first texturizing the hair with a sea salt spray or a lotion. Once the dry hair is wet, use the hair dryer with a diffuser to make hair waves within the hair. These are easier to make provided you have a texturizing lotion and the attachment of diffuser to hair dryer. You are advised to put the hair dryer near the roots of hair and then move the hair dryer slowly so that movements within hair can be created. Always remember to operate the hair dryer at a low speed while making wavy look because otherwise high speed could mess up the whole men hairstyles.
Curl Redefined
With the short sides and top curly hair, a new contrast could be made that is certainly an eye catcher. Clump your hair and then with the use of Styler, roll the hair and move it down so that you can achieve the maximum curls in hair. The use of cream before blowing the hair to get dry can make curly hairs to be even more tightly curled.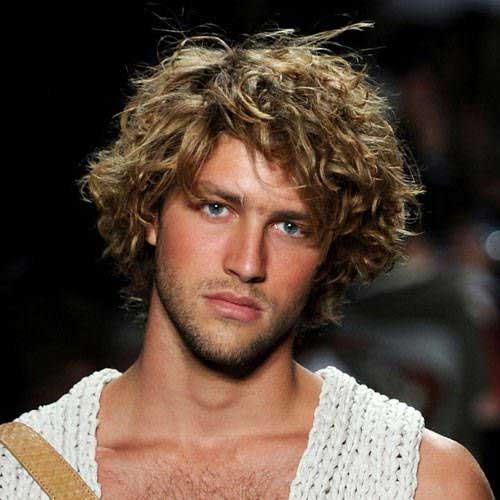 Longer, Better Hair
Having longer hair is the moment of all men hairstyles in 2015.  Long hairstyle doesn't suit everyone rather it suits some guys having right approach of styling the hair. Before planning to have the long hair, make sure that you don't have the thick hair because thickness of hair make it difficult to style hair every day.