A recent viral TikTok video has received so much love from millions of people on the internet.
A designer, entrepreneur, philanthropist, and activist named Isaiah Garza, who lives in Los Angeles gave an amazing surprise to a 100-year-old man to make him happy. The social media influencer invited him to go to Disneyland with him.
Isaiah who uses the pronouns they/them has almost 7.8 million subscribers on her YouTube channel, 660k followers on Instagram and around 7.7 million people follow her on her TikTok account. When the influencer posted a video on his social media platforms it went viral and he received a lot of appreciation from people around the world.
At the start of the video, 32-year-old Garza approached an old man on the street and asked him to go with him to Disneyland, Florida, USA.
"I'm sorry to bother you. I've had a really, really rough day," said Garza. "I just wanted to see if you'd be willing to go to Disneyland with me today."
"Hey, that's great,' the man answered him surprisingly "You really want to take me?"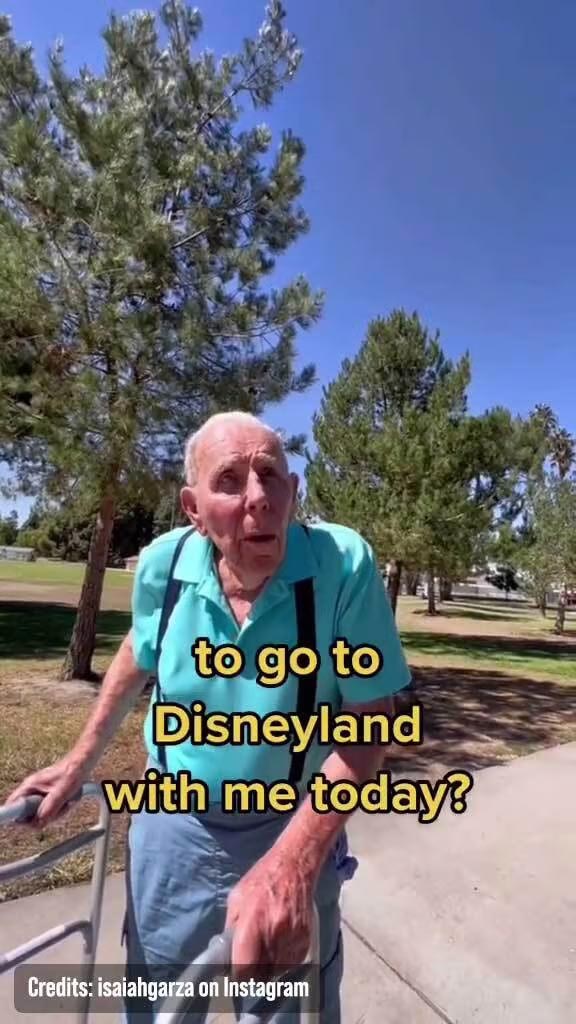 "My gosh, I can't believe this," Old-man said with excitement after receiving an amazing offer with a total random person on the street.
In the viral video they both showed enjoying and having fun at an amusement park "The heartwarming footage then cut to them riding the spinning teacups together, which was something the man hadn't done in decades." 
"He hasn't been on a ride in over 50 years, " the philanthropist wrote in their caption.
In the video Garza was pushing the gentlemen in the park in a wheelchair. The duo had a lot of fun together and enjoyed local food too.
"Their day included a dance break and meet-and-greets with Goofy and the Mad Hatter. Garza even got the veteran a pair of Mickey Mouse ears and sweetly placed them on his head, sharing that they became 'best friends for the day.'" Per Daily Mail.
At the end of the video, the philanthropist asked the gentleman that did he enjoy the day.
"How does it feel to be at Disneyland today?" they asked to the older man.
"Oh my gosh, this is one of the best days of my life. I feel like I might be dreaming or something," He answered happily.
"I thought my life was over, I will remember this day for a long time. You don't know how much I appreciate this," he further said with teary eyes "You really don't know." 
The viral video of Isaiah has reached 16 million views and almost 3 million likes on TikTok. Many people shared their feelings while commenting on his viral video and also appreciated him for his kindness towards the old man.
"Sobbing for real. Keep going; this is stunning," someone commented on Instagram.
"One of the most beautiful and unbelievable things I've ever seen!!! I LOVE THIS! Probably one of the best and most rewarding days of your life too!!!" another one commented.
"How incredibly precious…. Our seniors really need our support….He will never forget this moment Isaiah…You gave him new hope in humanity and his days on this earth," someone wrote.
"Stop it when he said I thought my life was over but this day he will remember my heart oh my gosh you get me every time with you're videos I love you," another commented on TikTok.
"This video just made me sign up to a program where I befriend an elderly person, it was the kick I needed. thank you!" wrote by someone.
You can follow Isaiah Garza on Instagram here.
Share Your Thoughts:
What are your thoughts about this viral video? Let us know in the comments.
Sources: Instagram – Hollywood Life – Newsweek – Daily Mail