A teenager, girl named Hannah Mongie, fell in love with a boy Kaden, who was just 20 years old, after meeting him in high school.
A few months later when their relationship started, one day Hannah found out that she was pregnant. She went to Kaden and informed him about her condition. First, they both talked about it then they decided to move forward their relationship of them.
As Mongie told because they were not mature enough to raise a baby so Kaden suggested her to look for the people who want to become parents so they could raise their child after adopting him.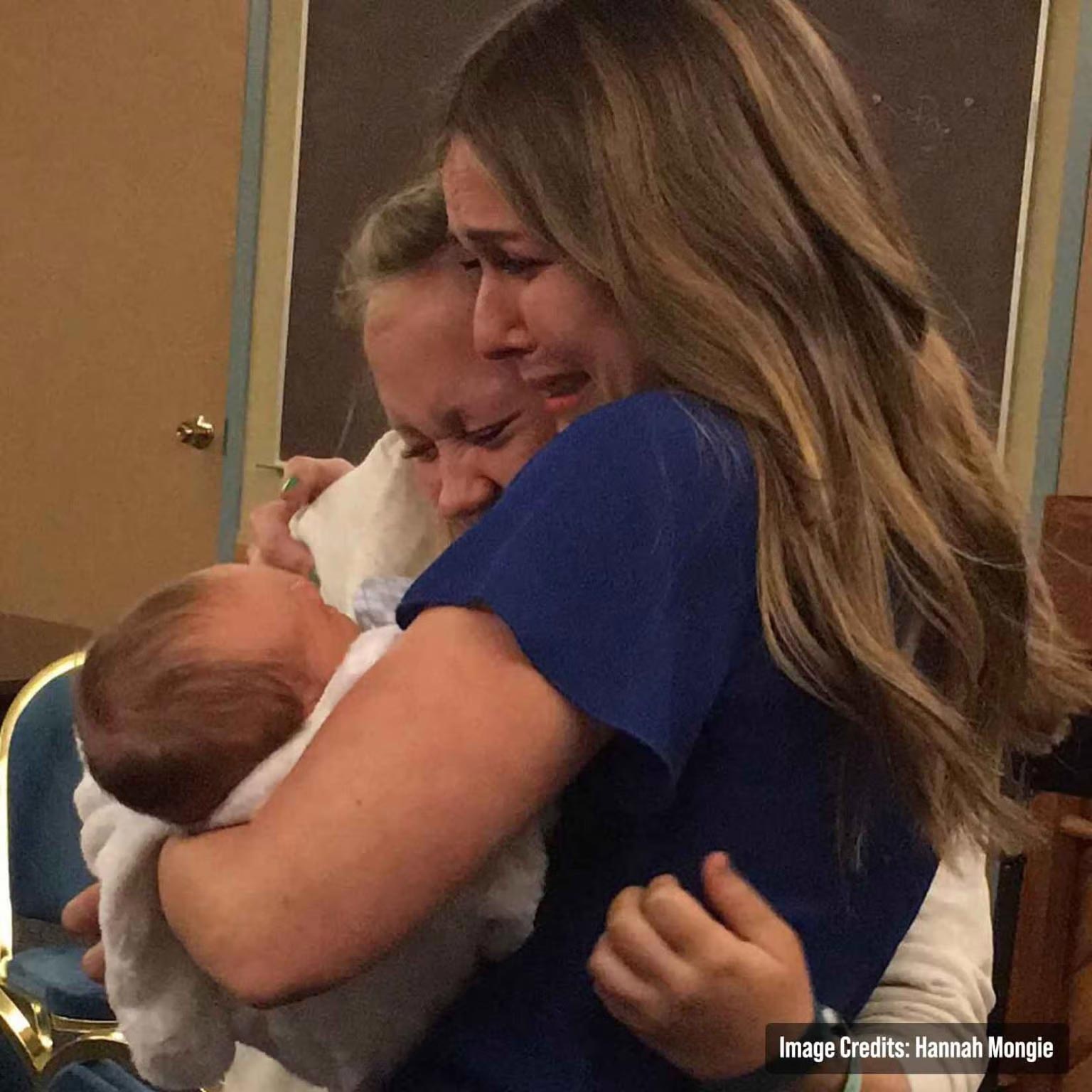 "After some time of talking, he and I both concluded that placing our son with another family would be the best decision for us." She told CafeMom.
"I was 18 years old and had just graduated high school a few months prior to finding out I was pregnant. My entire life, I had always longed to be a wife and a mother. That was the only 'career' path I could envision for myself up until that point. I found out I was pregnant through the most unlikely of circumstances, and the birth father and I talked together about what our options were.
He was the first to bring up the idea of adoption because of where we were in our lives. Neither of us had a real job or very much schooling, and he told me that I should start thinking about what would be the best option, not for us, but our child." She described.
Kaden listened to the baby's heartbeat during an ultrasound and then exactly after two days, he passed away sadly.
The young mother spoke with Scary Mommy,
"He died of natural causes. I didn't get out of bed for two months after Kaden's death. And I most certainly was not going to even think of the word adoption! That was not going to be an option for me because Taggart was my last piece of Kaden."
As it was very difficult for Hannah to still stick to their previous decision of adoption. But somehow when her due date came, she decided to do it for her son's better future.
"Over time, though, I learned that Tagg was his own person. He was not his father and needed a chance at the life he deserved."
She wanted to find out a suitable couple for her baby so, Hannah used Adoption.com for this. And finally, she found a couple who could raise her son well. The couple named Emily and Brad Marsh would be the perfect parents to adopt the kid according to Mongie.
In the year 2016, Hannah welcomed her baby boy. She named 'Taggart' to her healthy baby boy. She also recorded a deeply tear-jerking video message for her newborn after spending two days with him.
"This is my son, Tagg, whom I placed for adoption in March of 2016. This video was created so that he would be able to look back and know that this decision was made purely out of love for him. He will never have to think that I 'gave him up' or that I did not love him. He will always be able to know that I loved him more than anyone else in this world.
I hope anyone who watches this will be able to gain a new perspective on what the Birth Mom goes through, when she places her child for adoption. It is the FURTHEST thing from a heartless act. It shows the definition of love. To love someone this much, is to give away your happiness for them.
This young mom captioned her heartfelt video.
Her video got viral on Facebook and received two million views from people all around the world.
 "This video was created so that he would be able to look back and know that this decision was purely out of love for him," Hannah wrote on the platform. "He will never have to think that I gave him up or did not love him. He will always be able to know that I loved him more than anyone else in the world."
Hannah spent two days with her newborn and then the new parents Emily and Brad adopted baby Taggart. But the baby aware of her real mom and knows how much she loves him.
She shared with the local news station, KTVU, by saying that:
"I am a frequent visitor in his home. Rather than 'giving up' or 'away,' I just adopted his entire family into mine. Including his extended family."
His mom, Emily, is still one of my best friends in the whole world. She honestly is everything I want to be as a person and a mother. I am so grateful that Tagg led me to her and their family. They are a blessing alone. And with Tagg, they are everything I need." She further added.
What's your thoughts
Did you like this story? Tell us your reviews in the comment section.
Source: