"For this moment today, I wanted to do something I had always dreamed of," the bride Chelsie, said during her wedding vows.
A 29-year-old woman named Chelsie Hill, who was paralyzed since 2010, gave her husband a beautiful surprise on her wedding day by walking down the aisle.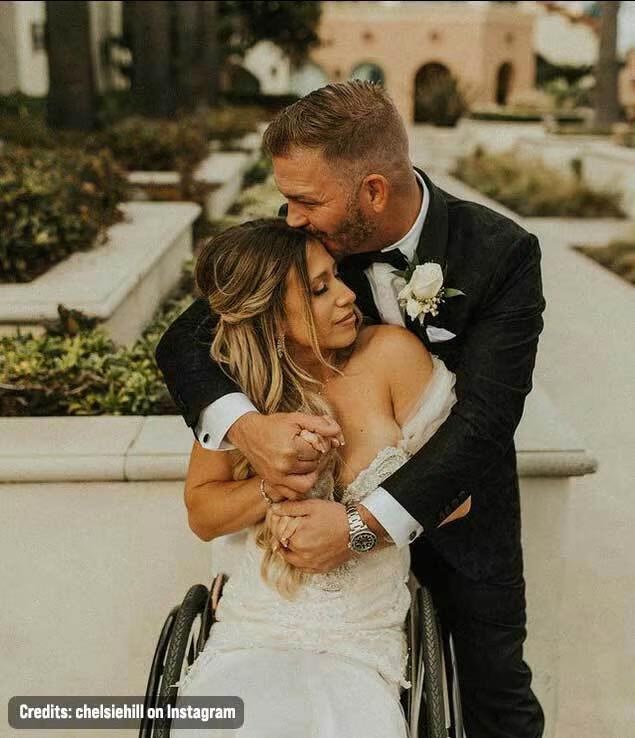 "Chelsie Hill, who is paralyzed from the waist down and uses a wheelchair, tied the knot with Jay Bloomfield on Sept. 24. But before they exchanged vows, Hill, 29, took Bloomfield, 34, completely by surprise when she stood up to walk down the aisle," wrote PEOPLE.
In the year 2010, when Chelsie was just 17-years-old she had a terrible car accident and after that incident she became paralyzed from the waist down.
"I want to stress that there's nothing wrong with sitting down in your chair," Hill told Insider." But for me growing up, I always imagined myself walking down the aisle."
"And I just wanted to feel that — not that my disability has taken anything away from me — but I just wanted to feel that heart to heart and stand up there eye to eye with him. That was just really something really important to me personally," she added.
After meeting a terrible accident she didn't lose hope and tried her best to spend her life at its fullest. Instead of giving up on life she decided to become a boss woman by doing something remarkable for disable people who are spending their lives on wheelchairs. The LA native founded a dance team for all the wheelchair users.
Chelsie fell love with her husband Jay Bloomfied 34, instantly after their first meetup in 2014.
"He loves me with all my strengths and weaknesses. He is the sweetest person I've ever met," she said.
"My whole life, I had imagined standing eye to eye with my husband on my wedding day. After my accident, I wasn't sure if I would ever find someone who truly loved all of me."
"But Jay accepted me fully, honored me, and adored all parts of me."'
Hill told outlets that her husband Jay hated surprises but she planned to surprise him anyhow at their big day.
"The couple's wedding was at the Hyatt Regency Huntington Beach and was planned by The Wife of the Party," The Insider wrote.
On the day of their wedding Hill made her dream come true by using leg braces and a walker.
"Additionally, her custom Galia Lahav wedding dress featured a removable skirt to make the transition easier."
The CEO and the founder of Rolletes, made sure that her husband to be Bloomfield's backs was turned to the aisle at the time of her entrance.
"As soon as I saw Jay, his jaw dropped," she told the outlet.

"He was just in shock that I was walking because he had no idea."
An insider revealed that her wedding photographer captured an adorable moment of Hill's entrance and also recorded Jay's shocking reaction after turning around.
"I just felt like that whole time our souls were locked in on each other. "I didn't see anybody else around me. I just saw him."
She also arranged completely choreographed dances for her wedding ceremony.
"She and her dad shocked guests with a dance choreographed by Phil Wright, and Hill and other professional dancers performed a number choreographed by Brinn Nicole for Bloomfield," Per Insider.
"That was so amazing," she said about the dance performances. "I love that no matter how hectic my life can feel, Jay will always make me feel like I have time to still stop and smell the flowers."
Since then this strong lady has become an advocate and founder of Rollettes. Now Chelsie has almost 208k followers on her Instagram account where she has been spreading positivity and awareness among people.
Share Your Thoughts:
What are your thoughts about Chelsie Hill's story? Let us know in the comments.
Sources: Insider – PEOPLE – Images Credits: chelsiehill on Instagram – Featured Images Credits: Asha Bailey Photography