Men and women, in their own way, go through different phases from 'I like you' to 'I love you' to finally fall in love for a person. Honestly, physical attraction is the initial stage for men, they weigh in options according to their preset criteria in mind, and decide that one person impresses them and they would share a meaningful understanding and passionate love in life. There are ways men show their love and 8 things are brutally honest when he loves you a lot.
1. He devotes all of his time when he is with you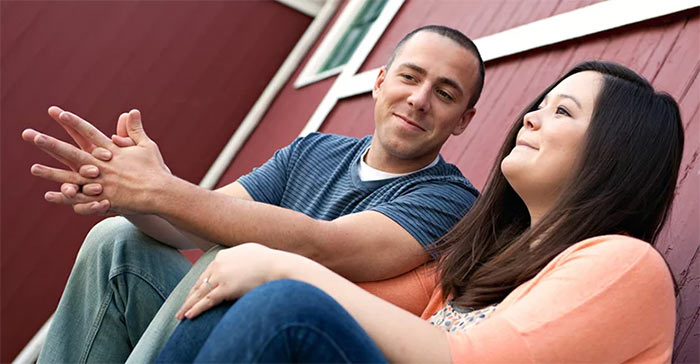 Don't you want attention of your lover? Well, everyone desires this and would want their partner to listen to them with honest attention. He will not run away from you when you have to discuss about different issues in your relationship. He will truly care for you and will give you their utmost attention when he will find you gloomy or feel that you are being bothered by something in life.
2. He believes in productive arguments
A strong man will face the argument and would never hesitate to disagree but with logic. Conflicts are part of life. Productive argument and rational solutions are the best way to overcome conflicts. He will value your opinion and respect you more when you will bring meaningful point of views to the issues and that's a big sign that he is accepting you as his important part in life. If he doesn't bother to discuss with you anything trivial or vital and distances himself from such discomforts then that is the way of saying that he is not prioritizing you.
3. You are above and before everything in his life
A guy only gives this place to a girl when he is ready to sacrifice everything to earn your happiness and comfort. He loves you above and before everything that even he has deadlines to meet and prior commitments to manage still he tries to squeeze time out to spend with the most important person in his life.
4. He sees nothing for granted that is related to you
He will make you feel as you are his most prized possession and he will prove that with the way he appreciates you at every step. He is strongly attracted to you and wants to give his care and attention to you because you are precious and the most desirable person associated in his life. He will try to make you believe how fortunate he is having you in his life.
5. He is you No.1 supporter
Do you feel he is your no.1 supporter? He is not like other men who never want their significant other to supersede them in any way. He is as proud as you are in your achievements and his actions prove that he loves you a lot.
6. He adores you endlessly
It is an extremely lucky phase of a girl's life when someone she loves adores her and never let any moment pass without praise or compliment. He will even try to make you day when you carry an emotional baggage and want to stay in sweat shirt and pajamas. He will express his attraction to you even in your haggard look.
7. Your family is important to him
If he really cares about you then he will accept all the aspects of your life with open heart. Your family and friends are as important to him as you feel for them and he will contribute his earnest efforts to aid your near and dear ones in any way possible.
8. He will not afraid being vulnerable in front of you
Men like to reflect their image as the powerful and invulnerable creature in front of women. However, this case will be opposite to know brutally honest things when he loves you a lot. He wants to share his imperfections with you and will open his heart out even if it makes him weak and exposed in front of you.